See you tomorrow at the 2022 Shaoxing Textile Machinery Exhibition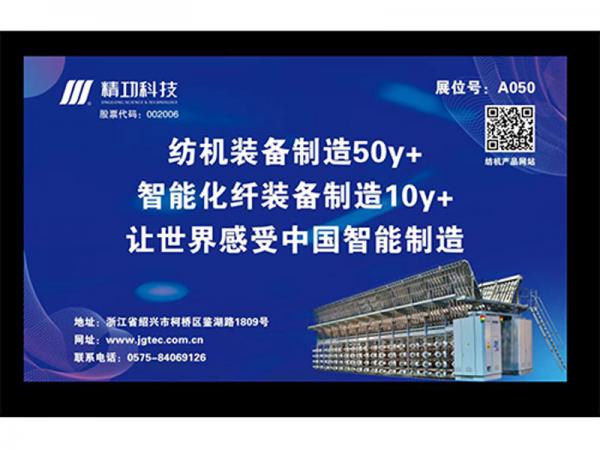 Introduction
From November 16 to 18, the three-day Shaoxing Textile Expo 2022 will be held at the Shaoxing International Convention and Exhibition Center, Jinggong technology will bring a number of featured products in the A050 booth, welcome to visit!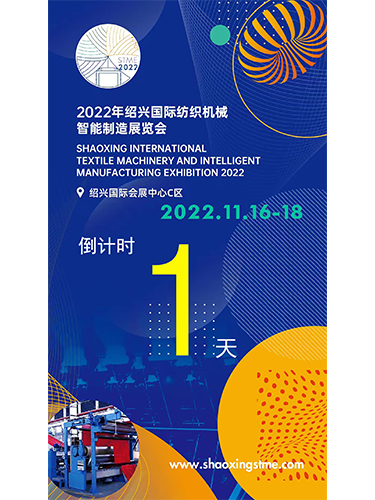 Tomorrow
Jinggong Science & Technology
Booth A050, Area C, Shaoxing International Convention and Exhibition Center
Wait for you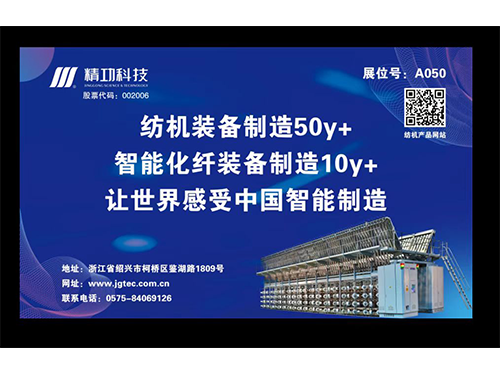 How to get free admission to the exhibition?
The exhibition is open by appointment. You can long press the QR code in the image below to register the audience or click the link below for details. Audiences need to use the reservation confirmation QR code in exchange for audience badge admission.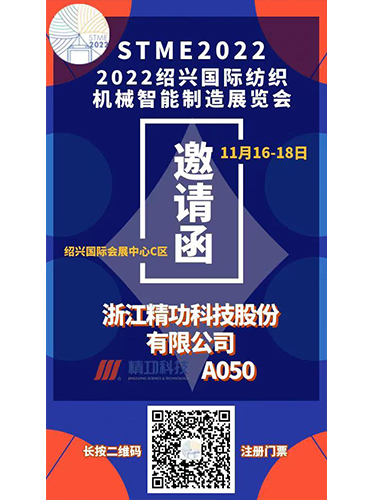 【Appointment】Enter Shaoxing at the beginning of winter——STME2022Audience registration channel opened
· Exhibition equipment』
01. false twist texturing machine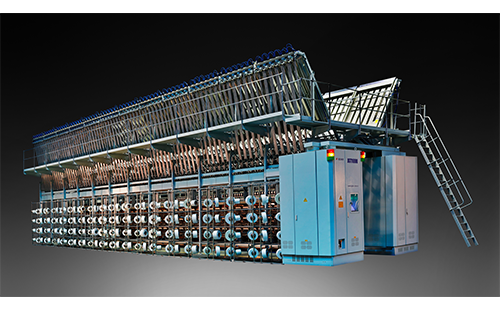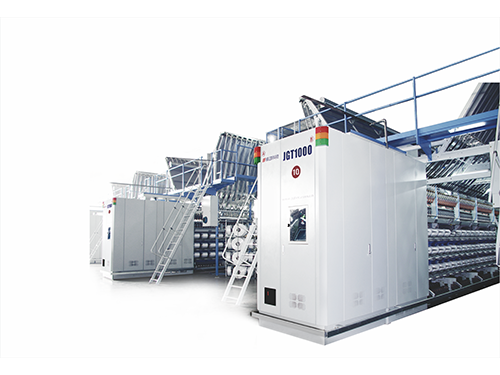 JGT1000V/VH type false twist texturing machine is mainly used to process POY raw silk (polyester pre-oriented silk) into DTY tensile polyester filament with low elastic energy through stretching and false twist deforming. If network components are selected to be added to the equipment, network wire can also be processed.
Equipment Features:
Ø New structure design and control mode, adopt single shaft single motor direct drive, cancel the synchronous belt and tightening wheel, reduce transmission steps, improve transmission efficiency, reduce the failure rate. A/B two sides can be relatively independent operation, the process can be adjusted separately, in the same equipment can be processed at the same time of two different varieties, improve the utilization rate of equipment, to achieve a multi-purpose machine.
Ø The machine is equipped with two hot boxes, the first hot box (deformation hot box) and the second hot box (shape hot box) are both using biphenyl gas phase heating method, the temperature control screen display precision is ±0.1℃, and has the function of over temperature alarm self-cutting yarn, to further ensure the uniformity of dyeing, effectively ensure the quality of yarn.
Ø Adopts PLC control system, the whole machine adjustment by human-computer interaction technology, touch screen display and makes the process simple operation, at the same time can be preset network interfaces, multi machine networking management according to the needs of the user;
Ø The use of high quality electrical components, to ensure that the equipment in use in the process of more stable and reliable operation;
Ø Adopt disc type Ⅷ false twist device, A/B two side independent dragon belt drive, install ceramic import and knife edge export disk, configuration range 1-4-1 to 1-7-1 Optional.
Ø W1 / W2, W3 roller adopts the roller type structure, aluminum alloy roller frame, uniform pressure, including W2 with wire roller.
Ø High-speed winding shaping system, drive range correction, forming good, easy to high speed unwinding, heavy fixed length, maximum volume loading capacity is 6 kg.
02 novelty twisters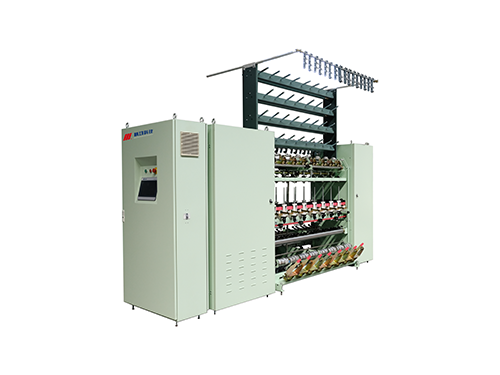 HKV151B (BI) novelty twisting machine is a new special yarn spinning machine with wide adaptability and full functions. Its raw materials are suitable for all kinds of chemical fiber filament, low elastic silk, cotton yarn, acrylic fiber and some natural raw materials, etc. Its fancy forming is completed by microcomputer and frequency conversion control technology, which is suitable for spinning various types of fancy yarn. Such as loop yarn, slub yarn, corrugated yarn, multi - color knot yarn, etc.
Equipment Features:
Ø Open spindle, simple operation, feeding amount.
Ø Each roller, spindle, false twisting, coiling separate variable frequency speed control, PLC program control, convenient operation, accurate process.
Ø Unique comb section device, with independent patent property rights, production of bamboo products yields more than double, multiplied improve production efficiency.
Ø Three layers of the yarn, to adapt to the more raw material feeding.
03 rotor spinning machine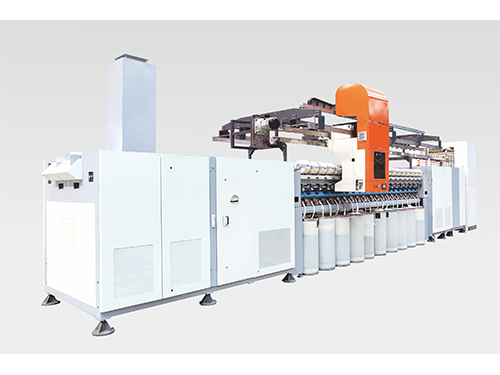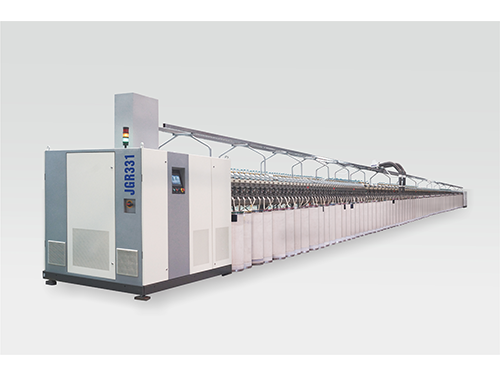 JGR series rotor spinning machine is designed and manufactured on the basis of digesting and absorbing the most advanced rotary spinning technology at home and abroad and integrating the spinning manufacturing of our company for more than ten years. High speed, high capacity and high quality are its most significant advantages:
Ø More economical: 600 ingot and up to 120,000 RPM to increase production by up to 30%;
Ø More humanized: more reasonable machine height design, free spinning cup bearing refueling design, optional drum machine trolley;
Ø More energy saving: optimized air duct design, energy-saving fan adoption;
Ø More intelligent: Digital connectors ensure perfect yarn joint quality, and standard induction connectors give higher joint efficiency;
Ø Provide customers with the choice of two spinners, suitable for spinning their own material is the best configuration;
Ø The whole system is equipped with double row of hybrid fan, which makes the hybrid more stable and yarn quality better.
Ø Optimized electronic transverse movement: double wheel mechanism motor is more stable; The middle part of the carbon fiber rod sliding bearing combination can achieve faster and more stable yarn guide reciprocating motion, yarn coil forming quality is better than peers.
04 Covering wire Machine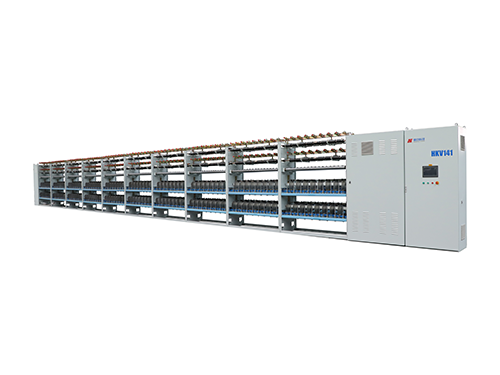 HKV141A (Ⅲ) type spandex covering wire machine is suitable for the production of fine denier type coating products (the coating between nylon or polyester and spandex). It has the characteristics of small capacity of outsourcing wire cylinder and high spindle speed. It is especially suitable for the production of covered wire of 2012, 2030 and other specifications. Its final products are mainly used in the field of knitting, such as: velvet super thin socks, underwear, etc.
05 bobbin winder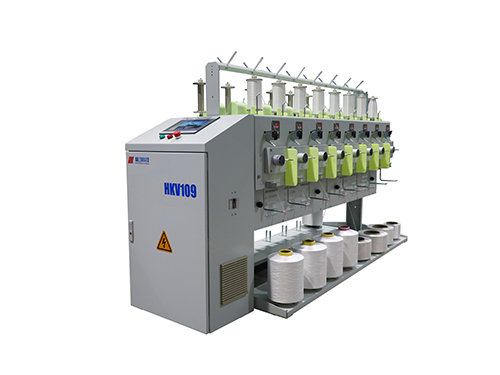 HKV109 high speed single control winder is a front track equipment of wrapping machine, fancy twisting machine and so on. It is suitable for winder of chemical fiber, blended yarn, cotton yarn and other raw materials. The machine adopts the control mode of single spindle and single control to drive overfeeding, guide wire and spindle independently. It has the characteristics of high wire speed, various forming types and excellent unwinding. It is a relatively advanced integrated electromechanical winding equipment.
Please scan the QR code below for more details about our textile products: