Internal public competition of Jinggong Technology was successfully held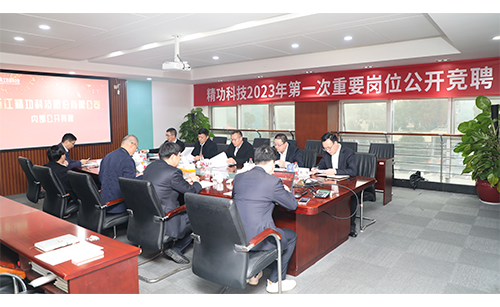 Hundreds of boats compete for the flow, and the one who works hard is the first! In order to create a high-quality cadre team, establish an open competition, up-and-down horse racing mechanism, further build a good platform for the growth and progress of employees, and effectively stimulate the enthusiasm of the company's cadres and employees to take on the work, on January 13, Jingong Technology carried out the first public job competition in 2023.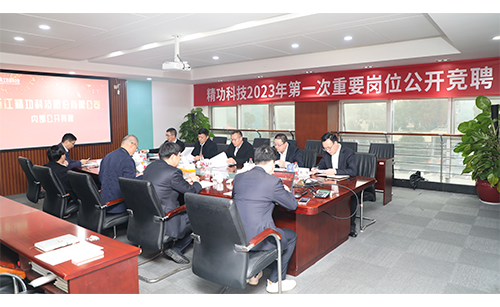 In this competition, two important positions of general manager of subsidiaries and department director at the same level were introduced. At the same time, Sun Guojun, president of the holding group, Wu Hao, vice president, Jin Yueshun, chairman of Jinggong Technology, Wu Haixiang, general manager, Chen Jianhua, executive general manager, Wang Yongfa, deputy general manager, Sun Yang, assistant general manager, and Zhang Junmo, director of the internal control and audit department were invited to form a strong review team. At the competition meeting, the candidates made speeches according to the order of drawing lots, and based on the competitive position, they elaborated on the basic personal situation, main work achievements, their competitive advantages, and the work ideas after the proposed position. In the course of the speech, I summarized the gains and losses, planned the future, and reflected my personality and style. They are not only impassioned, calm and calm, but also confident, calm and sincere, fully demonstrating the spirit of "Jinggong people" who are brave in innovation and strive for excellence.
After the competition speech, the evaluation team gave detailed and comprehensive comments and guidance on the work of the new year to the candidates one by one, and conducted a comprehensive evaluation based on their comprehensive performance and job compliance.
Select talents and appoint talents, and "compete" to show style. This internal public competition for employment adheres to the principles of fairness, fairness and competition, enhances the competition awareness and responsibility awareness of the majority of cadres, greatly stimulates their work potential and enthusiasm, and will further promote the smooth development of the company's work in the future.
Internal competitive recruitment is a long-term promotion mechanism of the company. We will continue to provide more channels for promotion. We also hope that more and more "Jinggong people" will participate in it, contribute to the development of the company and strive to achieve personal values.